Game Description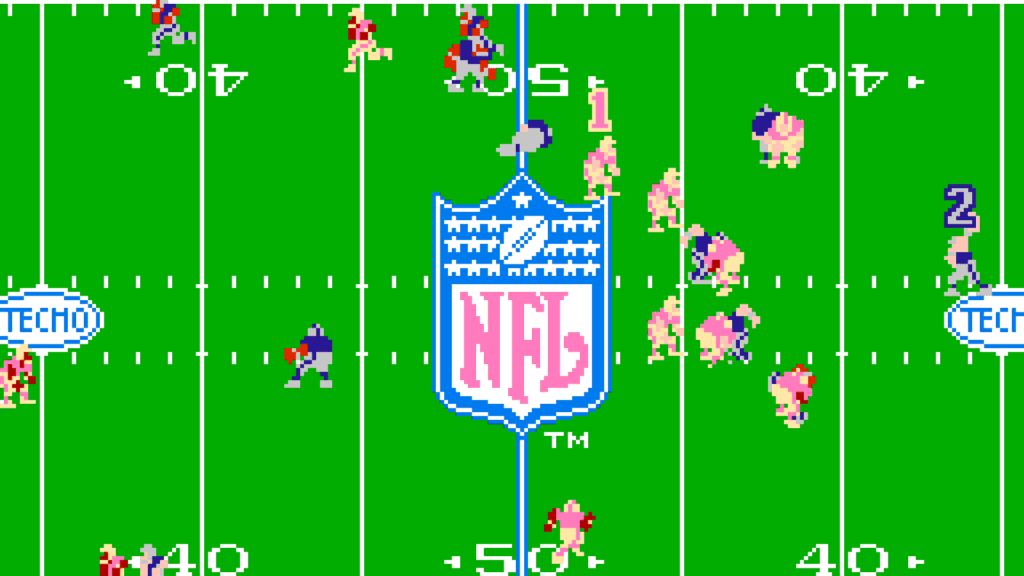 "Tecmo Bowl" is a classic American football video game released in 1987 for arcade platforms and various home gaming consoles. It is known for its fast-paced gameplay and simple controls, offering an arcade-style football experience.
Game Controls
The controls in "Tecmo Bowl" are straightforward and easy to grasp:
Directional Pad: Use the D-pad to control the movement of your players on the field.
A Button: This is the primary action button. It's used for snapping the ball, passing, and selecting plays on offense, as well as tackling and selecting players on defense.
How to Play Tecmo Bowl?
Playing the game is a thrilling journey into the world of American football:
Game Start: Launch Tecmo Bowl and select your desired game mode, which may include options like "1-Player" or "2-Player."
Team Selection: Choose your favorite NFL team from the available options, each featuring its roster of star players from the late 1980s.
Playcalling: Select offensive and defensive plays to outwit your opponent. Offensive plays include passes, runs, and special moves, while defensive plays aim to stop the opposing team's advances.
On-Field Action: During games, control your players to execute passes, runs, tackles, interceptions, and touchdowns. Speed, agility, and timing are key to success.
Championship Pursuit: Compete in a full season or go straight for the championship game. The goal is to lead your team to victory and claim the title.
Unlock Special Moves: Certain star players have unique special moves, such as unstoppable rushes or pinpoint passes. Make the most of these abilities to dominate on the field.
Tips and Tricks
To excel in the game, consider these helpful tips:
Know Your Roster: Familiarize yourself with your team's strengths and weaknesses. Utilize star players' special moves strategically.
Playcalling Mastery: Learn effective playcalling strategies for both offense and defense. Mix up your plays to keep opponents guessing.
Master the Jukes: Practice offensive jukes and defensive moves to outmaneuver opponents and make game-changing plays.
Timing is Everything: Perfect your timing for passes, tackles, and interceptions. Well-timed actions can turn the tide of a game.
Game Developer
Tecmo Bowl was developed by Tecmo, a Japanese video game company known for its sports and action titles. The game's success led to several sequels and adaptations.
Game Platforms
Tecmo Bowl was originally released in arcades and on the Nintendo Entertainment System (NES) in the late 1980s. Over the years, it has been made available on various gaming platforms, including emulators and virtual console releases.
As of my last knowledge update in September 2021, Tecmo Bowl was not officially available as a standalone app on iOS or Android platforms. However, there were alternative football games available on both platforms that captured the spirit of Tecmo Bowl. To check the current availability of Tecmo Bowl or similar games on iOS and Android, I recommend visiting the respective app stores (Apple App Store for iOS and Google Play Store for Android) and conducting a search for retro football games.
Playing Unblocked
To play Tecmo Bowl unblocked, you can employ the following strategies:
Web Emulators: Utilize web-based NES emulators that allow you to play Tecmo Bowl directly in your web browser. These emulators recreate the NES gaming experience, including Tecmo Bowl.
Unblocked Gaming Sites: Explore gaming websites or portals that offer unblocked versions of classic games like Tecmo Bowl. These websites cater to users seeking to bypass restrictions in educational or workplace settings.
Conclusion
Tecmo Bowl remains an enduring classic that has captured the hearts of football and gaming enthusiasts for decades. Its simple yet exhilarating gameplay, real NFL teams and players, and iconic moments on the virtual gridiron have solidified its place in gaming history.
While it was originally released for arcade cabinets and the NES, Tecmo Bowl continues to be enjoyed by fans through emulation and unblocked gaming websites. Whether you're reliving nostalgic moments or discovering the game for the first time, Tecmo Bowl promises gridiron glory and unforgettable touchdowns. So, step onto the field, call the plays, and show your football prowess in this legendary sports game!