Game Description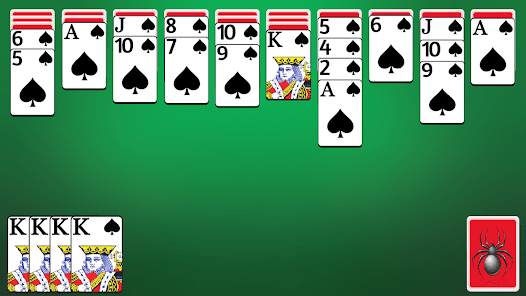 Spider Solitaire is a solo card game that's both relaxing and mentally stimulating. Your goal is to arrange a deck of cards into sequences from King to Ace within the tableau, ultimately forming eight complete suits of cards.
Game Controls
Mastering the controls is crucial for a smooth game of Spider Solitaire:
Drag and Drop (Touchscreen/Mouse): On both touchscreen devices and computers, you can drag and drop cards to move them around the tableau.
How to Play Spider Solitaire?
Playing Spider Solitaire is a delightful card challenge:
Setup: Start with two standard decks of cards (104 cards in total). The cards are arranged in ten columns, with the top card in each column face up.
Objective: Your goal is to build eight complete sequences from King to Ace, regardless of suit, within the tableau.
Moving Cards: You can move cards of descending rank and alternating colors onto one another. For example, a black 7 can be placed on a red 8.
Empty Columns: An empty column can be filled with any card or sequence.
Completing Sequences: As you build sequences, they are automatically removed from the tableau to free up space.
Victory: You win when you successfully build all eight sequences from King to Ace.
Tips and Tricks
To master Spider Solitaire, consider these helpful tips:
Plan Ahead: Carefully consider each move, as one wrong move can lead to a dead end.
Expose Cards: Try to expose face-down cards whenever possible to access more options.
Empty Columns: Use empty columns strategically to reorder sequences.
Aces First: Focus on finding Aces and building sequences from there.
Undo Moves: Most Spider Solitaire versions allow you to undo moves. Use this feature wisely to experiment with different strategies.
Game Developer
Spider Solitaire games are developed by various developers, both independent and as part of larger game studios. These developers often create different versions of the game, each with its own unique features and aesthetics.
The game developer for the game can vary depending on the specific version or platform of the game. The game has been adapted and developed by various individuals, independent game developers, and larger game studios over the years. It is a classic card game that has been implemented in numerous software applications and online platforms, and as a result, there isn't a single unified game developer associated with all versions of the game. Developers often create their own variations of the game with unique features and designs, making it a widely accessible and diverse card game enjoyed by players around the world.
Game Platforms
The game is widely available on various platforms:
iOS: Spider Solitaire is available as a mobile app on iOS devices, making it accessible on iPhones and iPads.
Android: Android users can find Spider Solitaire on the Google Play Store and install it on their smartphones and tablets.
Playing Unblocked
To play the game unblocked, you can use the following strategies:
Official Mobile App: Download the official mobile app for iOS or Android. Mobile apps are usually not subject to network filters, allowing you to play freely.
Web-Based Versions: Many websites offer web-based versions of Spider Solitaire that can be played directly in your web browser. These versions are often accessible without restrictions.
Desktop Applications: Some operating systems, like Windows, include the game as a pre-installed desktop application. These offline versions are not subject to network restrictions.
Offline Downloads: Look for downloadable Spider Solitaire games that you can install on your computer or mobile device. These games can often be played without an internet connection.
Conclusion
Spider Solitaire is a timeless card game that challenges your strategy and patience. Whether you're playing on your computer, mobile device, or exploring unblocked options, Spider Solitaire provides a satisfying and engaging card-playing experience. So, shuffle the deck, plan your moves carefully, and embark on a journey to build eight perfect sequences from King to Ace!