Game Description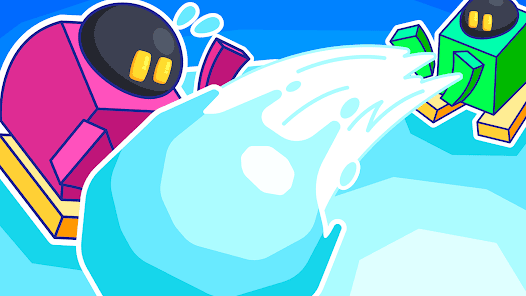 Snowball.io thrusts you into an icy battleground where you engage in fierce snowball battles with players from around the world. Your goal is to knock opponents out of the arena by pelting them with snowballs while evading their icy counterattacks.
Game Controls
Mastering the controls is paramount to becoming a snowball-slinging champion:
Touchscreen (Mobile): On mobile devices, navigate your character using your thumb. Swipe in your desired direction to move around the icy arena. Tap and hold to charge your snowball, then release to unleash it upon your adversaries.
How to Play Snowball.io?
Playing Snowball.io is a thrilling fight for dominance in the winter arena:
Game Commencement: Enter a snowy battleground alongside other players, each represented by a vibrant character.
Snowball Arsenal: Collect snow scattered across the arena to build your snowball arsenal. The larger your snowball, the more potent your throws.
Aim and Launch: Target opponents by moving your character closer to them. Charge your snowball, aim with precision, and release to send it hurtling toward your intended target.
Knock 'Em Out: Score hits on your opponents to push them out of the arena. The last player remaining triumphs in the round.
Evade Elimination: Stay nimble and evade incoming snowballs from rival players. Remain within the diminishing safe zone to endure.
Power-Ups: Occasionally, power-ups materialize on the battlefield. Snag them to gain momentary advantages, such as an enlarged snowball size or augmented speed.
Victory: To secure victory, emerge as the last player standing in the arena.
Tips and Tricks
To ascend to the rank of snowball-slinging maestro, consider these strategic nuggets:
Charge Wisely: Refrain from rash shots; judiciously charge your snowballs for maximal impact.
Aim with Precision: Exercise care when taking aim, especially when targeting distant opponents.
Size Matters: Larger snowballs are more potent. Accumulate snow to bolster your snowball size, heightening your odds of ejecting opponents.
Stay Agile: Keep in constant motion to dodge becoming an easy target for rivals. A moving target is substantially harder to hit.
Use Obstacles: Harness arena obstacles as shields to deflect incoming snowballs.
Game Developer
Snowball.io is crafted by Geisha Tokyo Inc., a game development studio with a reputation for forging captivating and competitive multiplayer games. However, it's important to note that Snowball.io is predominantly designed for mobile devices.
Game Platforms
Snowball.io predominantly thrives as a mobile game, easily accessible on the following platforms:
iOS: Venture to the Apple App Store to procure Snowball.io and indulge in snowball battles on your iPhone or iPad.
Android: Android aficionados can unearth Snowball.io on the Google Play Store, enabling installation on their smartphones and tablets.
Playing Unblocked
For an unblocked Snowball.io experience, contemplate these strategies:
Official Mobile App: Obtain the official mobile app on iOS or Android. Mobile apps generally elude network filters, granting you unhindered access to the game.
Web-Based Iterations: Various websites host web-based renditions of Snowball.io that can be engaged directly in your web browser. These versions typically dodge restrictions.
Offline Downloads: Scout for downloadable editions of Snowball.io that can be installed on your computer or mobile device. These games frequently function without necessitating an internet connection.
VPN or Proxy: Employ a Virtual Private Network (VPN) or proxy server to circumvent network restrictions and gain access to the game from your location.
Conclusion
Snowball.io elevates the art of snowball fights into an intense battle royale within a captivating winter arena. With pinpoint controls, strategic depth, and thrilling multiplayer dynamics, it presents an enthralling and frosty gaming experience.
Whether you're relishing the game on mobile or deploying unblocking strategies, Snowball.io beckons you to outmaneuver and outwit your opponents, striving to emerge as the ultimate snowball-slinger in the frosty arena. So, bundle up and let the snowball skirmishes commence!