Axis Football League Description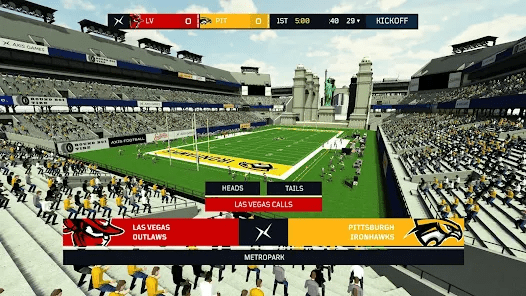 Axis Football League is a captivating and immersive American football simulation game that offers fans of the sport an opportunity to build and manage their own football team. Developed by Axis Games, this game provides a deep and strategic football experience, allowing you to take on the role of a coach, manager, and player all in one. Whether you're a die-hard football enthusiast or new to the sport, Axis Football League promises an exciting gridiron showdown.
Game Controls
Understanding the controls is vital for success in Axis Football League:
Player Movement: Use the on-screen joystick or buttons to move your player around the field.
Passing: To throw a pass, tap on the intended receiver. You can also choose the type of pass (short, medium, or long) and adjust the trajectory.
Running: When controlling a ball carrier, use the joystick to navigate and tap sprint buttons for a burst of speed.
Defense: As a defensive player, control your movements and aim to tackle the ball carrier. You can also switch players to cover receivers.
Kicking: For kickoffs, field goals, and punts, a kicking meter appears. Tap at the right moment to determine the power and accuracy of your kick.
How to Play Axis Football League?
Axis Football League offers various gameplay modes, including Season, Playoffs, and Pro Bowl. The objective is to lead your team to victory, whether you're playing a single game or going through an entire season. Manage your roster, call plays, and make strategic decisions to outscore your opponents. You can also customize your team's appearance, name, and logo to create a unique identity.
Tips and Tricks
To excel in Axis Football League, consider these strategies:
Know Your Playbook: Familiarize yourself with the playbook and understand the strengths and weaknesses of each play. Use the right plays in different situations.
Master Timing: Timing is critical for both offense and defense. Perfect your passes, tackles, and interceptions by practicing your timing.
Upgrade Your Players: Invest in training and upgrading your players to enhance their skills and performance on the field.
Team Management: Manage your team's roster carefully. Ensure you have a balanced mix of offensive and defensive players.
Scout Opponents: Pay attention to your opponents' playstyle and adjust your strategy accordingly.
Practice Special Teams: Special teams, like kickoffs and field goals, can be game-changers. Spend time perfecting your kicking skills.
Game Developer
Axis Football League is developed by Axis Games, a game development studio dedicated to delivering realistic sports simulations. Their commitment to authenticity and engaging gameplay is evident in Axis Football League's intricate football mechanics.
Game Platforms
This immersive football simulation game is available on both iOS and Android platforms, making it accessible to a broad audience of mobile gamers.
iOS: You can download Axis Football League from the App Store on your iPhone or iPad.
Android: For Android users, the game is readily available on the Google Play Store. Simply install it on your Android smartphone or tablet to begin your gridiron journey.
How to Play Unblocked
Playing Axis Football League unblocked is typically straightforward, as it's an officially available mobile game. Download it from the respective app stores on iOS and Android to enjoy the full football experience. However, if you're looking for an unblocked web version of the game, some gaming websites offer this option. Ensure you choose a reliable source to avoid potential security risks.
Conclusion
In conclusion, Axis Football League brings the excitement and strategy of American football to your iOS and Android devices. With realistic controls, deep gameplay options, and a focus on team management, it's a must-play for football enthusiasts and sports gamers alike. Take charge of your team, lead them to victory, and experience the thrills of gridiron action on the go. Whether you're building a championship dynasty or testing your skills in a single game, Axis Football League offers an immersive football experience that's hard to beat.